Manufacturing Process
SeAH Special Steel adds value to our products with advanced process technologies and experiences we have accumulated for a long time. We secure raw materials with stable quality through domestic and overseas steelmakers.
Pickling & Coating
Pickling and coating
Product : CHQ Wire
Product outer diameter : 3~42mm
Production base : Pohang Plant, Chungju Plant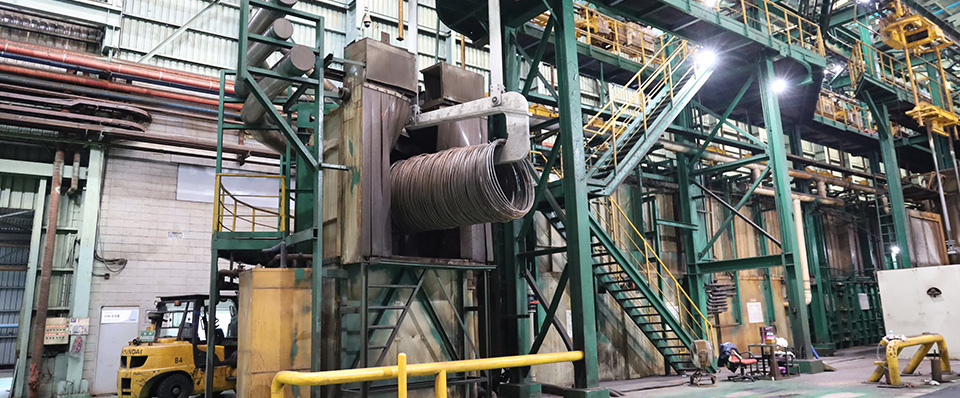 Korea's first domestic automation line
Pickling and coating are chemical and physical processes that remove foreign substances from the surface and form a lubricating layer. We achieved advanced quality by establishing an automated line for the first time in Korea and continuously improving our coating technology.
Customized coating portfolio
We secure uniform and dense customized coatings and provide customers with a diverse portfolio of coatings suitable for their intended use.
Main features
01

Extended oil lifespan leads to cost savings and enhances the working environment for customers

02

Allows customers to skip the dephosphorization process and boasts an outstanding plating effect due to the excellent degreasing process.

03

Exhibits excellent forgeability while enhancing corrosion and heat resistance.
Coating type
Excellent forgeability and rust resistance

Enables customers to skip the dephosphorization process

Improving customer's work environment
Annealing
Heat treatment
Product : CHQ Wire
Product outer diameter : 3~42mm
Production base : Pohang Plant, Chungju Plant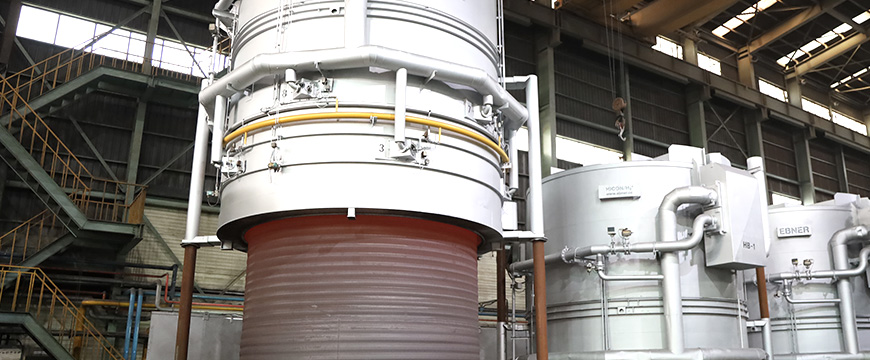 Implemented hydrogen furnace for the first time in Korea
Spheroidization annealing is a heat treatment that enhances the strength, hardening, and toughening qualities of metal materials in order to transform them into a structure and physical properties suitable for the intended use. Seah Special Steel introduced a hydrogen furnace-heat treatment process for the first time in the domestic industry. By doing so, it improved the quality of heat treatment.
Successfully manufactured uniform coating quality without structure discrepancy
The hydrogen furnace equipment produces outstanding cold forging formability with its excellent spheroidizing heat treatment. Furthermore, it has a uniform internal temperature in the combustion chamber, which leverages excellent coating quality without structure discrepancy
Main features
01

Offers excellent cold formability and contributes to the improvement of mold lifespan.

02

Due to its perfect sealing properties, our heat treatment eliminates the need for atmosphere control and the risk of decarburization or carburization.

03

Due to the uniform temperature within the combustion chamber, the likelihood of SOOT generation is minimal, ensuring consistent coating
Drawing
Wire drawing
Product : CHQ Wire
Product outer diameter : 3~42mm
Production base : Pohang Plant, Chungju Plant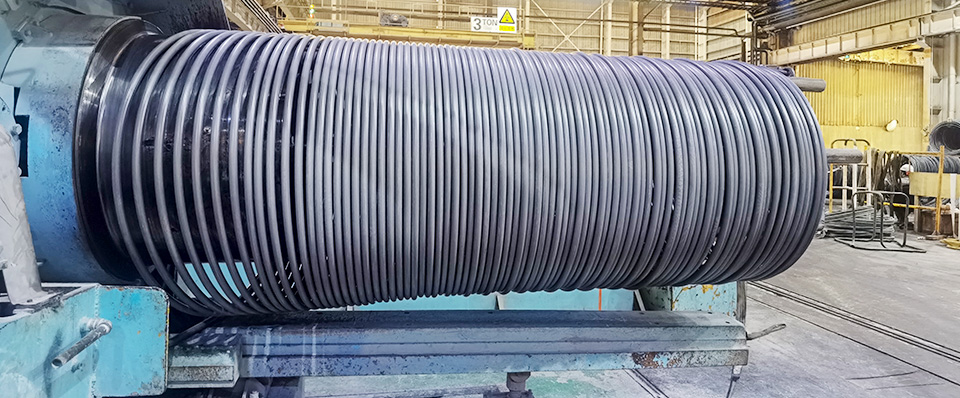 Primary drawing to promote spheroidization and optimize physical properties
This process involves passing raw material through dies to extend the wire to the required diameter. The pearlite structure is segmented through cold processing in order to promote spheroidization during heat treatment. Following the completion of the drawing, we adjust the reduction rate of the final drawing area in order to meet the mechanical properties required by the customer.
Final drawing to satisfy customer specifications
Physical properties that satisfy customer requirements are ensured through this process. We remove the bends generated during the spheroidization heat treatment and increase the strength of the material in the final cold working process. Our cold forging processes provide optimal area reduction according to the customers' specifications. As a result, we satisfy both the aesthetics of the surface and the precise diameter of the wire to meet the customer's requirements.
Main features
01

We provide precise wire diameters and minimize average error through the optimized DIES design customized to match the product features according to the customer's requirements.

02

We provide a better working environment for our customers by providing an exceptionally coated appearance and minimizing the coating powder on the surface after the final drawing,

03

With uniform mechanical properties, we guarantee excellent cutting surface and dimensional accuracy for the customer's cold forging process.
Combined Drawing Machine
Draw Bench
Peeling Machine
CDM · DB · PM
Product : CDB · BTB · PB
Product outer diameter :
- CDB : 4~42mm
- BTB : 30~80mm
- PB : 25~120mm
Production base :
- CDB : Pohang Plant, Chungju Plant 2
- BTB, PB : Chungju Plant 2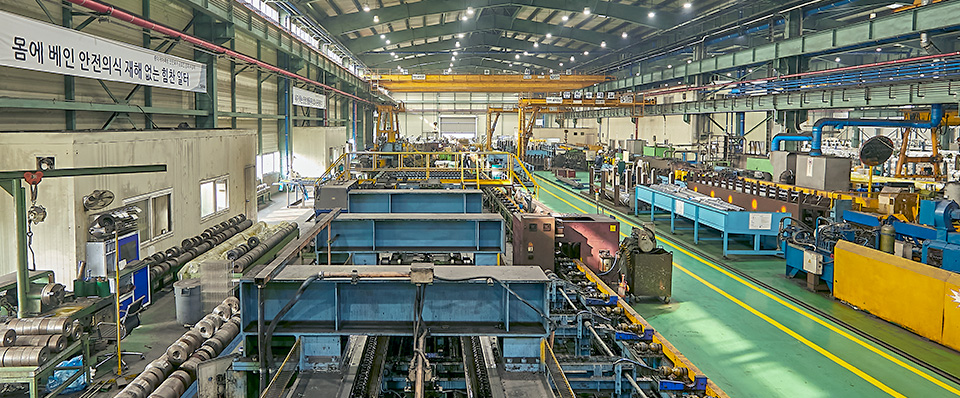 Combined Drawing Machine (CDM) process
A process to produce CDB (CD bar) from raw material (Wire rod). By going through this process, CDB has excellent surface roughness, dimensional accuracy, straightness, and roundness compared to BS Bar (Hot rolled steel bar). CDB is widely used as a material for automobiles, industrial machinery, and home appliance parts. It is mainly supplied in round and deformed bars (square or hexagonal) to suit machine processing. This process allows us to cut the CTL bars in the length the customer requires.
Draw Bench (DB) process
This process produces BTB (Bar to Bar) from BS Bar (Hot Rolled Steel Bar). After removing the scale with a shot blaster, the bar is drawn on a drawbench to produce cold-drawn large-diameter products with improved straightness and surface roughness.
Peeling Machine (PM) process
This procedure produces PB (Peeled Bars) from BS Bars (Hot Rolled Steel Bars). Continuous turning removes the decarburized layer and micro-defects generated on the surface during rolling process. It results in high-quality, defect-free bar products with improved dimensions and roundness.
Main features
01

We provide production competitiveness to customers by allowing them to skip the calibration process with a product of uniform mechanical properties and a high degree of straightness.

02

In addition to square and hexagonal shapes, we can also produce complex deformed shapes. This capability allows for effective cost savings through products that eliminate the need for additional customer processing steps.

03

We guarantee flawless quality by using eddy current through non-destructive Eddy-current testing (ECT) to find defects on the surface of the products and conduct an in-depth inspection of length, cylinder, and interior.